Cheryl Charette
Biography
I used to be a freelance reporter but decided to write what I want to write. As I was researching neutrinos and the Sudbury Neutrino Observatory for a story idea I became fascinated with these little particles from space. The result is the novel The Tunnel At The End Of The Light.
I really enjoyed the photography element of being a freelancer. In fact the basis for the cover art on my book was a macro I took of the centre of a petunia. My husband Jeff, who is trained in graphic arts, played with the image and I liked what he did with it.
I now have a galleries of contemporary abstracts and photos at Imagekind.com called LensLight, WildThings, PolarVortexDeposits, BellPark and BlackandWhite.
Books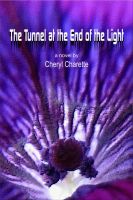 The Tunnel At The End Of The Light
by

Cheryl Charette
Our world is undergoing massive technology changes that hold the promise of a brighter future. New discoveries are leapfrogging over each other in ways that few understand, and fewer still know what the consequences will be. In the process many people are being left behind unable to find work in the new economy, unable to cope with the byproducts of science unleashed.
Cheryl Charette's tag cloud