Cheryl Bransby
Publisher info
Dr Richard Steele, Homeopath and Educator has this to say about TALES WITH TWISTS:

Look carefully at the cover art. Eyes closed eyes closed eyes closed eyes wide open. How do the eyes go from closed to open? By facing and naming the fear, the oppression, the oppressor. As I see it, the twist is about taking power back from outside to inside.

Not always resulting in liberation from the physical shackles, as evidenced in the It's All in Your Mind, My Son.

Not always resulting in a change in the circumstances, as evidenced in The Opening of the Shutters.

But always resulting in the opening of eyes, the rise in consciousness, the transformation of victim into activist. "The meeting was over, Siya was closing up – 'Anyone got anything to discuss, any problems?' I stood up boldly, squarely faced him. 'Yes, I have.' My jaw was set , my shutters wide open, light shining in. 'I am tendering my resignation with immediate effect. I will no longer be part of this circus.' (The Opening of the Shutters.) And sometimes resulting in liberation all round, as evidenced in The R100 Note.

I encourage you to read these tales and be twisted, be transformed.
Books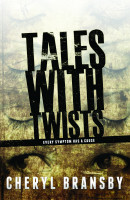 Tales With Twists
by

Cheryl Bransby
An Intriguing Collection of Fictional Short Stories "Tales with twists" is the lava from the volcano of rage that has erupted over the corruption and abuse of power in all areas of South African society. Refreshingly, the author is not shy to deal with the harsher realities of life.
Cheryl Bransby's tag cloud