Cheryle Linturn
Biography
During her writing career she has won three Editor's Choice Awards for outstanding poetry.She also won several competitions on a writing website for poetry and took third place in a magazine competition. She combined forces with her husband and started their own business related to the arts. They are putting together E books of poetry and works of fiction. She has written ten children's books that await her artwork. She designed their logo and wrote the introductions for their webpage. She has several songs under contract with a publisher. During her career she painted murals for children's rooms, created scenery for haunted houses, schools, and businesses. She designed and constructed sets for Elmhurst Children's Theatre.She is an artist that designs book covers and does original paintings.. Doing these jobs have required her to work with professional directors, school personnel, parents, and business owners to combine her own unique artistic flair with their personal vision.
Books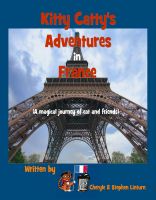 Kitty Catty's Adventures in France
by

Cheryle Linturn
Kitty Catty's Adventures in France is the first book in an upcoming series to take your child where no child may have gone before! The world is a big place and this book takes your child inside for a peek at fantastic places like the Eiffel Tower and The Louvre. This story embraces the charm France has to offer your child from a child-like perspective.
Cheryle Linturn's tag cloud