Michael Espar II
Biography
Michael Espar II was born June, 22 1986 in Connecticut. Espar was homeschooled a third of his life. He grew up reading books for entertainment, and for education. Espar's love for children's poems and stories flourished after he graduated from Oxford University. College life had taken a toll on Espar, and children's stories helped him realize the importance of reading, writing, and using your imagination. Michael Espar II has written books, essays, short stories, and poetry. Until recently he never wrote children's books, stories, or poems. He has vowed to hide is serious literary work from the world until his passion for writing children's books, and poems, has been fulfilled.
Books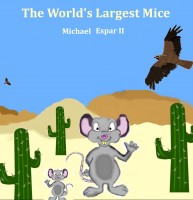 The World's Largest Mice
by

Michael Espar II
Mitty is a small, and brave mouse. Boomer is a very large, and very fearful mouse. The two mismatched mice embark on an epic life-changing journey where they are forced to deal with their issues of fear, depression, body issues, loneliness, insecurity, low self-esteem, and judging others by appearance. This is an excellent children's book with a positive moral message. Recommended ages: kids 3-11
The Purple Donkey
by

Michael Espar II
Larry was a very disobedient donkey. He would always do the exact opposite that anyone told him to do. One day his disobedience catches up with Larry when his parents decide to send him away to boarding school as a last resort. Larry runs away to avoid boarding school, and embarks on an incredible journey. On his journey he learns the importance of friends, family, love, and obedience.
Michael Espar II's tag cloud