Christian Theologian
Biography
Qualified Scientist, Engineer, & Software Developer with an expert working knowledge of Christianity, Islam, and Politics.

I've been developing a technique for mental health, concerning the treatment of delusions, which is very much like how a detective would confront a suspect, using logic & evidence to drive a line of questioning that exposes how implausible their position is.

I've been mostly practising on the Christian community, which today has fallen victim to a Strong Delusion, the one from Isaiah 1 concerning the Praying Sodomites. When Jerusalem, the Holy City, becomes Sodom & Egypt, abounding in Fake Love, and all manner of harmful delusions. When they throw themselves from the cliff, demanding angels & miracles, even though Jesus said to not do that.

Witchcraft is the sin of Rebellion, the magic of gossip and lies, which is not very magic at all - it's rebellion against male authority, bible verses, Truth... it's rebellion against reality! Jezebel is in the church, and brand theft is stealing. God is just Truth & Love - good magic is also not real.
Books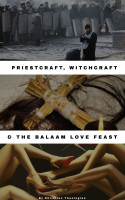 Priestcraft, Witchcraft, and Balaam Love Feast
by

Christian Theologian
It's in the family, the church, and the government and military: the same destructive patterns; not unique, not secret, highly predictable; among the most destructive forces of nature, wiping out entire civilisations. It destroys information, our humanity, and happiness; and its part of the human condition.
Christian Theologian's tag cloud