Christine Anne
Biography
About the author
Christine Anne lives with her husband of 44 years in country Victoria Australia.
Works full time in retail and spends as much time as possible with her family.
Christine says "My favourite hobbies are reading and writing. Like most people of my generation, I'm time poor, so to actually get my act together and write a full length novel seemed like a huge task, not only because of lack of time to do it, but also because I get fits 'n' starts, I'm all one mad rush with a project, then I start something else and it takes ages for me to get back to that first project. I'd never thought of myself as a Novelist in any way shape or form, then one day as I was reading a Christine Feehan novel, a writer I very much admire, I thought to myself, you will never be a Christine Feehan, but what's stopping you from having a go? My answer to myself was, a fear of rejection and ridicule. That seemed so silly after I thought some more about it, after all I'm over 60 years old and by now I should have learned to laugh at myself, so with that thought, I've decided to take the plunge.
I enjoy the process of writing a story, then reading my own work over and over, it makes me smile, and if others enjoy reading my books, well, that's just the icing on the cake for me".
Books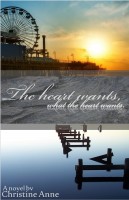 The Heart Wants What The Heart Wants
by

Christine Anne
Price:
$7.99 USD.
Words: 87,860.
Language: English.
Published: February 18, 2015
. Categories:
Fiction
»
Romance
»
Adult
Do you believe in 'Happy Ever After'? Everyone understands that the heart wants what the heart wants. But sometimes you have to be prepared to make the best of what fate tosses your way. The heart can't always get what it wants. Or can it? When you love enough to sacrifice the desires of your own heart. That's real love. When you deny love for fear of rejection. Is it pride or plain old stupidity?
Christine Anne's tag cloud