Christopher F. Cobb
Biography
Born and raised in West Palm Beach, Florida, Christopher Cobb eventually ventured off to the wilds of New York City for several years to experience the world of acting. Finding it a cruel and inhospitable world, he hid high in the Appalachian mountains of North Georgia for a time. Having grown weary of snow and perilous black ice, his life path took him back home to South Florida where he earned college degrees at Florida Atlantic University and ultimately landed rewarding employment for the State of Florida. He now lives with his wife, Melissa and his sons Grant and Joey in Port Saint Lucie, where foreclosures are outnumbered only by surly seniors on electric scooters. He is a member of the Bloody Pens writers group and the South Florida Writers Association. He loves his family (all of them!) and his dogs, Gizmo, Dudley and Magnum (all rescued!) and intends on writing more exciting books for publication. All this makes Christopher a very happy man indeed.
Where to find Christopher F. Cobb online
Books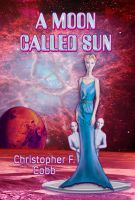 A Moon Called Sun
by

Christopher F. Cobb
(5.00)
Mysterious disappearances plague Earth's history, blamed on the Bermuda Triangle, spontaneous combustion, and alien abductions - closer to the truth than anyone imagines. A young woman from 1942 war-torn France, an American accountant from 1967, and a scholar from far in Earth's future, all meet on a moon called Sun to serve an alien race. One man's destiny is to put a stop to it all - if he can!
Christopher F. Cobb's tag cloud