Roy Johnson
Biography
I have done namy interesting things in my life. I designd the launching systems for many of the early rockets, travels the world, was the office manager in Cairo, Egypt for years, designed electronics for the U.S. government and many foreign countries, and owned a printing and publishing company. Now retired and starting a new career, I am back to publishing. That's what I love most.
Where to find Roy Johnson online
Books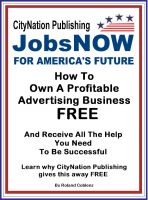 How To Own A Profitable Advertising Business, FREE
by

Roy Johnson
Are you lookng for a new Job or career. This is a story about the people, the owners, the work, the profit, and those things you need to know about owning and operating a successful Local Advertising Business - so you can definitely determine if this is the right career for you. And, when you are finished reading this ebook, you are offered a valuable Local Advertising Business Opportunity, FREE.
Roy Johnson's tag cloud