Clark Jensen
Biography
Dr. Clark Jensen grew up in Byron Wyoming where he was awarded the Eagle Scout award. He later spent two years on a church mission in Sweden. He attended BYU and has practiced optometry in Casper Wyoming since 1985. Clark and his wife, Larene, are the parents of nine children. He is active in his church and enjoys skiing, kayaking, golf and racquetball. His love of God, family and country are the three most important motivations in his life.
Books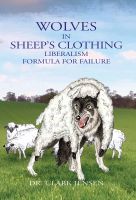 Wolves in Sheep's Clothing: Liberalism - Formula for Failure
by

Clark Jensen
(5.00)
America is on the decline. Why? What made us great and why are we now spiraling out of control? Three pillars have contributed to our great successes. They are the pillar of faith in God, the free market and the Constitution. All three of those pillars are being attacked. All three of them are at risk of collapse. How can we stop and reverse this Liberal attack on America? This book shows how.
Clark Jensen's tag cloud