Claudette Carrida Jeffrey
Biography
Claudette Carrida Jeffrey, a native New Orleanian, is a retired teacher who lives in Northern California. The Color of Life is her second book in a four book series. Book one, A Brown Paper Bag and A Fine Tooth Comb (2012), begins the coming of age story of, Claire Soublet, a young Creole of Color growing up in 1940s and 50s New Orleans.
Books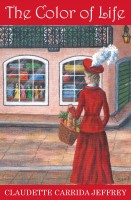 The Color of Life
by

Claudette Carrida Jeffrey
When 23 year-old Claire Soublet arrives in New York City to begin her new life, she has no idea that after only four days, a situation will arise forcing her to return to New Orleans. Growing up mired in years of hardship and being abandoned by family through death and disinterest, she manages to scratch and claw her way out of that life. And in the process, get a college education.
Claudette Carrida Jeffrey's tag cloud