Clay Browne
Biography
First-time author Clay Browne wrote The Princess Principles because, "Truthfully, I was frustrated by all the news I encounter almost every day about marriages going to hell and relationships deteriorating just because at any given moment, one party isn't paying attention. It's your job to be the one who almost ALWAYS pays attention. I felt that if I could create a book that describes a common-sense approach to healthy relationships, men and women would have a much better chance at success. To me, the best skill set to ensure this outcome combines the Golden Rule along with all the lessons, both good and bad, I learned from my parents, and from playing sports, engaging in business and Scouting."

"I know that as a longtime husband, I've made almost every mistake, yet with a lot of work and dedication, I now have a marriage that I am proud of and that I cherish…and my mate, Rebecca, is my best friend. I would like to think that my book can give any guy the tools to make his partner feel special every day, and learn how small actions can create an environment for a love and fun filled relationship."

* * *

Clay spent most of his career in marketing positions in the housewares and toy industries. He now runs a marketing consulting company based in Durango, Colorado, where he spends most of his non-working-time writing, cycling, hiking, and enjoying life with his wife in the mountains.

Born and raised in Norwich, Connecticut, Clay graduated from Kent State University in Ohio with an MBA in Marketing in 1977. He met his Bride, Rebecca, at Kent State; they have three adult children, Allison, Powell, and Amanda.
Books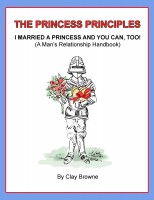 THE PRINCESS PRINCIPLES I Married a Princess and You Can, Too! (A Man's Relationship Handbook)
by

Clay Browne
* Your Princess, that wonderful woman you're dating or who you married, needs a hero. In The Princess Principles, Clay Browne shows you the way to tap your own creativity to delight your sweetheart every day by making her feel like she's the best woman in the world. In a matter of days, she'll discover that her hero is YOU!
Clay Browne's tag cloud