Clay Gilbert
Biography
I'm a novelist, not a short-story writer, for a reason. I was born in 1971--although, as Douglas Adams rightly observed, time is relative. I've been writing since I was four--if a short sci-fi story about a robot, with stick-figure illustrations--counts, and I published my first short story, called "The Computer Conspiracy", in Scholastic magazine when I was in middle school. Wrote my first novel-length manuscript (you don't want to see it) that same year, and began my first novel of any worth my senior year of high school, and finished it in my freshman year of college. I spent a lot of time in school, eventually earning a Master's degree in English lit and an M.F.A. in Fiction Writing (from Auburn University and U. of South Carolina, respectively). In those years, I gathered up a few more publication credits--all for my poetry--in various magazines and an anthology from Citadel Press called "The Pagan's Muse." I've also taught English composition and grammar at the college level since 2003. My goal, ultimately, though, was to become a published novelist. In February, I self-published my sci-fi novel "Eternity" through Amazon/CreateSpace (it's going to be reissued eventually through PDMI, but is still available through Amazon right now), and later that month, submitted my most recent novel, "Annah", to Tc McKinney and had it accepted for publication--making that dream come true, and providing the reason I'm here writing this. I'm also on the editorial team here at PDMI, and happy to be among this wonderful community of people who love words, stories and books and want to write the books that they--and others--will delight in reading. I'll be glad to help in any way I can. Things you'll be seeing by me from PDMI soonish: "Annah", my vampire novel "Dark Road to Paradise", and my YA sci-fi novel "Eternity." Current project: "Annah's Exile", the sequel to. Well, you know. See, told you I didn't write short stories. ;) Glad to be here.
Where to find Clay Gilbert online
Books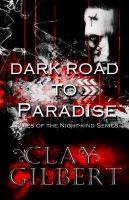 Dark Road to Paradise
by

Clay Gilbert
"Will you come travel with me? Shall we stick by each other as long as we live?" They are lines from the poet Walt Whitman, but for Cassie Edwards, they become something different entirely. Spoken to her by the man she loves, Martin Cabot—who is also one of the Night-Kind—what humanity calls vampires—the words frame a choice between certain death and eternal life.