Rev. Clifford D. Schutjer
Biography
The Reverend Clifford D. Schutjer has enjoyed a ministry of 39 years at the First Congregational Church in Mansfield, Ohio. He is a 1958 graduate of Anderson College in Anderson, Indiana and a 1961 graduate of Union Theological Seminary in New York City. Reverend Schutjer is also the author of "Calling in Well," another thought- provoking book that uses imagery as a tool of thought for grasping what God in Christ calls us to consider doing for the restoration of our souls, the reclamation of our freedom, and the return from the many kinds of deaths that can subtly overtake us.
Books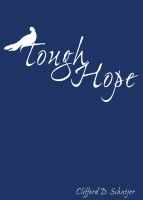 Tough Hope
by

Rev. Clifford D. Schutjer
"Tough hope," like "tough love" – that must sometimes go beyond warm sentimentality, endearing wishful thinking, and feel-good optimism – is hope that is tough enough to operate in the dark, to endure constant ambiguity, and keep a practical edge to its trust.
Rev. Clifford D. Schutjer's tag cloud