L. A. Cloutier
Biography
L.A Cloutier is a woman with a lot of passion and zeal. She has a feisty, playful, and boisterous personality on the outside. 
On the inside, she has a mind full of naughty mischief. Her stories, although some may say are a bit edgy, are packed full of teasing, tantalizing, and taunting detail.
Series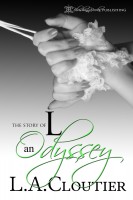 The Story of L
by

L. A. Cloutier
"The Story of L", is a recounting of a woman's odyssey that will make "The Story of O" pale in comparison. Stories within a story that will make readers hot with desire, wickedness, and envy giving them the impetus to overcome the repression of their most secret fantasies, prompting them to allow their desires to become realities...
Books
L. A. Cloutier's tag cloud