Colleen French
Biography
Colleen French has been selling and publishing books under various pseudonyms for over twenty-five years and sold her first novel at the age of 23. With over 5 million books in print, she's written mysteries, suspense, historical romances and contemporary romances worldwide, and has been published in languages such as French, German, Bulgarian, Dutch and Chinese, among others. While she's written in many genres, her roots and her first love will always be in romance. Writing seems to be her genes. She's the daughter of best-selling author Judith E. French and grew up listening to the sound of her mother's typewriter late at night. When not writing, Colleen likes to read a good book on the beach. She can be reached at colleenfrenchnovels@gmail.com or on Facebook.
Where to find Colleen French online
Books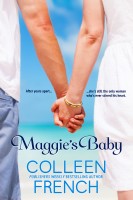 Maggie's Baby
by

Colleen French
Shell-shocked after losing her husband and their cherished son, Dr. Maggie Turner finds herself dwelling on the past. She can't stop wondering about her other child, the baby she was forced to give up for adoption when she was a teenager. Finally tracking down her lost daughter, Maggie uncovers a shocking surprise—Taylor has been raised by her birth father, Jarrett McKay, Maggie's first true love.
Colleen French's tag cloud