Erik Conners
Biography
Erik Jamel Conners grew up moving from one foster home to another under tough conditions that threw him more and more into a path of self-destruction. Severe abuse as a child, beatings, drugs, crime ... you name it, he faced it all.
Today, he has turned to God and found that he could now follow his dreams and make them come true. In No One Knows My Struggle. They Only Know My Trouble, the author tells his life story straight from the heart, just like things really were, with no punches pulled.
Currently, Erik likes to talk to at-risk youths about making better choices and is thinking of becoming a counselor in the future. Today, he has a happy family with two beautiful little girls that he enjoys raising and encouraging to follow their dreams, whatever they may be.
Erik Jamel Conners' biggest achievement is in realizing that God does love him. He also knows now that just because he had a rough beginning to his life and was deserted by his parents, it does not mean that you are forgotten and can't make your dreams come true. He knows that God loves everyone and will always be there.
Books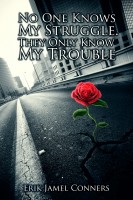 No One Knows My Struggle, They Only Know My Trouble
by

Erik Conners
God put me on earth for a reason, to feel what he feels, to feel his pain, to hear the screams his children go through, to witness the molestation cases, the statutory rapes, and the murder of children. He put me on earth to walk the walk because no one knows what he feels but me.
Erik Conners' tag cloud