Robert Henry Walz
Robert Henry Walz, known affectionately as Walzie, Bob, Copabob, and a myriad of other suitable nicknames, was born in Vancouver, Washington on September 2, 1947, to a life constantly filled with adventure.
He first attended BYU then was a U.S. Marine who served in Vietnam. After his military service was completed, Bob attended and graduated from the University of Washington with a degree in International Relations and English Literature.
As an avid collector of art and memorabilia of all types, he put his fascination to good purpose, opening an art gallery in Seattle's Capitol Hill area in the 1980s.
Sometime during the early 1990s, Bob moved to Boulder, CO, and began his work in public relations. He also began his tour and travel business. Over the many years that followed, he guided adventure and travel safaris to over seven different international destinations. Bob was enthusiastic about Ernest Hemingway and all things Cuban. He was especially fond of the tours he guided to Cuba, in particular, the trip with his Mother, Pat, on her 80th birthday.
Bob returned to Vancouver and his childhood home in 2005, to be a loving caregiver to his parents in their last years. During this period, he developed his amazing love of art into creating haunting and inspiring assemblages of xxx art, utilizing his mastery of words and images. He was also a big lover of literature.
Bob was a prolific writer of Letters to the Editor which were often published in numerous publications. Most of all though he loved to tell a good story. Never allowing the truth to get in his way, he took his audience on a majestic and rousing journey.
Bob made friends wherever he went and will be forever missed by many. He passed away quietly in his sleep on November 9, 2011, his life's wondrous journey finally completed.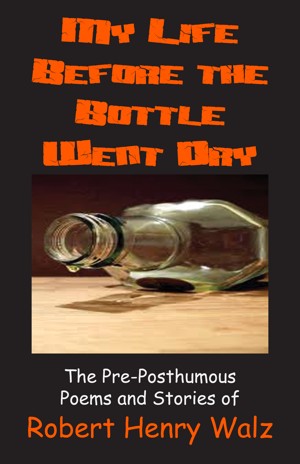 My Life Before the Bottle Went Dry
by

Robert Henry Walz
"Zany, insane, crazy fun, and morbidly dark" These are just some of the adjectives that will come to your mind as you read the poems and short stories of Robert Henry Walz. Robert lived his whole existence in anticipation of one day setting down his life experiences in a single book of poetry and short stories. Before he passed away, he DID it!