J Corcinto
Biography
J. Corcinto is the second in a brood of four boys. He has a doppelganger named Julian, loves to cook and tend to his garden. He enjoys being a bimbo ninety percent of the time.

As a kid, he enjoyed winning prizes for writing and communicating with people, but never really thought of doing anything about it. He meandered through life for more than a decade after school, working as a domestic flight steward and eventually handling Learning & Development for BPOs in the Philippines.

But somewhere along the way, J. Corcinto started dreaming again.

And he has written the debut novel for Arcenciel Publishing, an independent publishing company aimed at publishing stories of diversity.
Books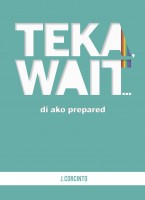 Teka, Wait...Di Ako Prepared
by

J Corcinto
Teka, Wait…Di Ako Prepared is a Filipino book about growing up gay. It's not heavy literature. It's not some deep, dark peek into the underbelly of whatever it is people seem to want to focus on when it comes to Filipino LGBT lit. It's about coming of age. Finding friendship. Acceptance. And love. More importantly, it's about happy endings– at the end of the harder road we've all been dealt.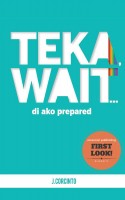 Teka, Wait...Pasilip Muna!
by

J Corcinto
Excited ka na ba? Here's the first look at a few chapters of J. Corcinto's much-awaited first novel, "Teka Wait...Di Ako Prepared!"
J Corcinto's tag cloud