Corina Morell
Biography
Corina Morell grew up in the beautiful Blue Mountains, New South Wales. Her love of stories began at a very young age when she would walk around the house telling stories to her teddy bears. When her Grandmother gave her a special note book in primary school, Corina began to write imaginary adventures of the many different animals she had growing up, as her love of writing stories grew. Throughout high school, Corina found she actually enjoyed the creative writing assignments she was given in class, and began to realise her true passion for writing, as she continued to receive positive feedback from her teachers, family and friends. Before becoming a proud mother of two, Corina completed a Certificate II in Creative Writing, and had several articles about her life experiences published in magazines. But it wasn't until she began to read stories with her children every night that she found the motivation to write her first children's book, 'Billy Bowerbird's Quest', a story about the native Australian animals of 'Waratah Glen.' Corina found her inspiration for her first book from her childhood home of the Blue Mountains and her love of Australian animals. Corina now hopes to make Billy Bowerbird's Quest, which has been illustrated by emerging artist, Lisa McKay, the first book in the 'Waratah Glen' picture book series.
Where to buy in print
Books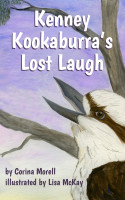 Kenney Kookaburra's Lost Laugh
by

Corina Morell
The first rays of sunshine reach out to gently wake the bush birds into song. Then, a loud booming laugh breaks through the early morning ... 'Koo-kaa-ka-ka-ka-kaa!' Every morning Kenney Kookaburra's laugh can be heard throughout Waratah Glen. But what happens when Kenney Kookaburra loses his laugh?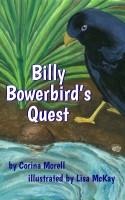 Billy Bowerbird's Quest
by

Corina Morell
Deep in the blue, in the heart of the Australian bush, Billy Bowerbird looks at his bower with a sad sigh. It is almost Spring, and Billy has been searching day and night for anything to decorate his bower in blue, but so far has not found a thing. What is Billy to do? This is an illustrated reflowable ePub.
Corina Morell's tag cloud