Coronet13
Biography
King Taylor, Jr. is an author, entrepreneur, mentor, and educator who resides in St. Louis, Missouri. He began his long journey at Park University of Kansas City, Missouri, where he received his undergraduate degree in Business Administration and Economics. Mr. Taylor's expertise began to flourish while working for Dial Corporation and the Hartz Mountain Corporation in management. He went on to receive a Masters in Management from Fontbonne University in St. Louis. Mr. Taylor has been involved in several entrepreneurial endeavors including manufacturing, distribution and retail operations.

C. Christopher Lee, a resident of St. Louis, Missouri, recently concluded a 37-year career in journalism, corporate public relations, grant writing, and non-profit consulting and management. A graduate of Boston University with a Bachelor of Arts in Political Science, Mr. Lee worked for 23 years at AT&T where he devoted considerable time to writing and editing internal publications, speeches and white papers, as well as directing the company's multi-million dollar philanthropic programs in Missouri.
Books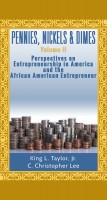 Pennies, Nickels & Dimes II: Perspectives on Entrepreneurship in America and the African American Entrepreneur
by

Coronet13
In the book, we examine the past, present and future of African American entrepreneurship in America. What did African American entrepreneurship and the African American economic infrastructure look like 100 years ago, and how does it compare to where we are today?
Coronet13's tag cloud