Corrine Ann Delvecchio
Biography
Corrine Ann Delvecchio was born in the Motor City on the day the sun left the constellation of Ophiuchus and entered Sagittarius. Corrine's mother and grandmother emigrated from northern Italy to Canada where they joined with her grandfather who had been establishing a home for them. Corrine's father is the retired center for the Detroit Red Wings and member of the Hockey Hall of Fame.

As a part of that thin band between the Boomers and the Gen Xers, Corrine experiences life between narcissism and altruism, between fear and faith, between you and me, and reasons with words. As a young child, she would 'talk her sister's ear off' before letting her sleep. She secretly started writing lyrics and verse as a pre-teen, and in High School, she actually attended her poetry classes. Her best recollection is that she did receive an A. ;-)

As a young adult, Corrine sold advertising specialties and promotional items for her father's company. She holds a Bachelors degree in Business Administration, and worked for many years in the Automotive Industry. And she has a much cherished lawyer-son.

Corrine has a philosophical mind, a poetic heart and a modern-day life. She has an insatiable quest for the Truth, is an avid reader and relishes the time she spent studying metaphysics, walking and writing. "Systole," written at the very beginning of this millennium, is her first collection of poems to be published. Since Corrine has started a new life in Milwaukee, she has published a sequel to "Systole" titled "Diastole". Corrine continues to walk in the mornings and write new poetry.
Books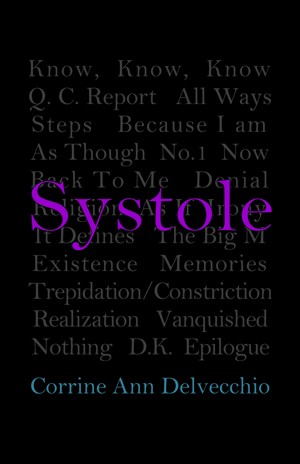 Systole
by

Corrine Ann Delvecchio
(5.00 from 2 reviews)
Systole is the contraction of your heart that pushes your blood through your veins. "Systole" describes that contraction with rhythm, rhyme and reason. "Systole" is relationships in poetry. "Systole" is modern poetry, sometimes sophisticated and sometimes simple. "Systole" is twenty-three, 21st century poems that reveal relationships with honesty and truth... Perhaps an edgy truth.
Corrine Ann Delvecchio's tag cloud