T L Daley
Biography
For a long time (seven years) I have felt stuck in my life as a single parent to my three children. My life certainly has not turned out the way I had hoped and along the way, I have allowed myself to be overwhelmed by feelings of limitedness in my life. Sometimes those feelings have been all consuming and for the most part, I have not practically known how to help myself move forward. Over the years I have searched for answers and whilst I don't have all of them, I've learnt many new perspectives that have helped me to adopt new meanings to my thought processes and mindset. I thought by sharing my experiences with others who may be going through a similar situation, that it would be easy to identify that we are not alone in feeling stuck in life. No-one has all of the answers all of the time but the beauty of becoming unstuck means that we are ready to transition to something new. I hope this short, easy to read ebook offers you something new, if only to help you start your journey. Let me share with you what I know to be true.
Where to find T L Daley online
Books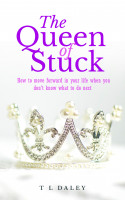 The Queen of Stuck - How to move forward in your life when you don't know what to do next
by

T L Daley
Are you feeling stuck in life? Unsure of how to move forward? This book will give you some insightful tips on how to take the next step in your life. After seven years as the Queen of Stuck it is time to transition to something new. Let me explain the five guiding principles that I know can change your perspective and help you move forward. Being stuck is a state of mind. Why don't you join me?
T L Daley's tag cloud