Don Cramer
Biography
Don Cramer was born and raised in the lush foothills of Mt. Rainier and Mt. St. Helens. In 1936: Morton WA population was about 1000. Most men worked in the treacherous logging industry; my dad was among them.

During the Great Depression his parents lease-purchased a 160 acre homestead and moved into the ramshackle farm house. For his first six years of life they had to paddle across the river in a dugout canoe to reach the road.

In his class of 35 High School students, Don was Class President and co-Salutatorian.

He decided to become a Methodist minister, as Methodists seemed the most committed to social change, embracing diversity and getting into the neighborhoods to help those in need.

Don double majored in Philosophy and English Composition at UPS, a Methodist affiliated liberal arts college in Tacoma. Upon graduation from UPS, Don married Claudia Rawson in August of 1958 then moved across the country to Dallas, Texas. Claudia enrolled at Southern Methodist University and Don enrolled at Perkins School of Theology, a graduate schools at SMU.

Don was selected for a Danforth Internship to be trained for the campus ministry. Claudia got a job in a multi-racial congregation in Dallas.

Completing seminary in 1962, Don became associate pastor at Central Washington State University, in Ellensburg, WA where they spent the next six years.

Claudia and Don adopted two three-week old infants through the Washington Adoption Agency and named them Mark Alan and Kristen Sue.

In 1968, Don was relieved of his position in the campus ministry for involvement with the EI and the civil rights movement. He was assigned to a small church in Eastern WA, Ritzville United Methodist Church. The Ecumenical Institute sent them on a ten week trek into SE Asia, teaching courses in Japan, Hong Kong, Indonesia, Malaysia, Cambodia, Taiwan and the Philippines.

Local lay people led the Sunday Services in Ritzville and a number of farming families contributed to our trip. I sent reports that were read from the pulpit each week.

During his 20 years with the E.I. Don was assigned to Cleveland, Washington DC, London, Houston and the Philippines, with intermittent assignments in Chicago.

In 1988 Don returned to the Pacific Northwest to start a consulting firm, ICA Associates.

Don took a position at the Management Development Department of Bates Technical College in Tacoma before being hired by Boeing to train in Total Quality Management. This lasted two years.

Claudia and Don moved into a log cabin near Issaquah, WA, where they lived for eight years, while Don worked as handyman.

Claudia was a fabric artist who created quilts, until she died in July of 2002 from complications with her epilepsy medications. She has a marvelous legacy of 100 "Claudia's Quilts".

After mourning Claudia's death for over two years, Don became partners with a professional social worker and long time friend, Jan Trafton. He relocated to Port Angeles, Wa to read and write poetry and work on his memoirs. The isolation became too much so they moved to Fairhaven on the Southern edge of Bellingham near Bob Keller, an old College friend.

In Fairhaven, Don was able to complete his memoir and to publish poetry, one piece of which has been honored by the Sue C. Boynton Poetry contest.
Books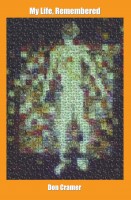 My Life, Remembered
by

Don Cramer
Price:
$11.99 USD.
Words: 52,760.
Language: English.
Published: July 7, 2015
. Categories:
Essay
»
Literature
This is the extraordinary life of Don Cramer, revealed within the stories, photos, and poetry of My Life, Remembered. The material will invite you to climb an interior mountain. You will not wish to miss the view.
Don Cramer's tag cloud