James Cowley
Biography
Dr James Cowley C.Ed; B.A; M.Ed.; PhD; QPMR; CPM; FAMI; MRSA

James Cowley has worked across fields as diverse as health, education, innovation and business and in different parts of the world.

His businesses and organizations have worked on many critical projects, products and services creating numerous jobs in high performance teams. He has been known for his pragmatic down to earth approach to helping people solve problems.

He has kept in touch with people throughout his career by active involvement in research, listening directly to over 40,000 people talk about their lives, needs and experiences and also to numerous others via surveys and similar. As an external academic in his spare time he has also examined and supervised many Doctorates. He has a strong belief in rigorous but useable in the "real world" research.

These days he continues to work on innovations and research themes which he believes impact us all with the aim of sharing this as widely as possible.
Books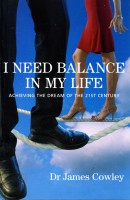 I Need Balance In My Life. The Dream Of The 21st Century
by

James Cowley
I need balance in my life. "I want a life" "give me a break" "I'll go mad if I don't do something about this" "If only I had time to connect with people again" How many times have you said things like these? Once a week? Once a day? Even more often? If you are seeking work life balance, this book provides a range of down to earth strategies, which you can use immediately and into the future.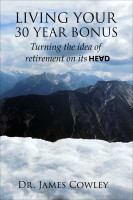 Living your 30 Year Bonus. Turning the idea of retirement on its head.
by

James Cowley
We are the first generation where most of us can live into our 80's and probably well into our 90's. We are part of a remarkable event- It has never happened before. We are creating history at this very moment - we have the ability to claim a 30-year bonus! This book for anyone over 45, based on the experiences of many others, helps you to carefully think through the life you want in the future.
James Cowley's tag cloud