Cutlife
Publisher info
Добрый день!
Я инженер-химик и твердо хожу по земле. В своей жизни однако я встретила много случаев, обыкновенных но драмматических, в которых неизвестный для меня способ появлялся трудный для описания влияния высшие силы. Я не знаю что это за сила, но она появляется в таких неординарных ситуациях, где появлялась страх, боль и перелом человеческой судьбы.
Я не знаю, что это может быть, а представляю своим читателям рассказы, о таких случаях, которые очень вероятно описала моя подруга, писательница Ирина Серебро.
Прошу вас, чтобы вы с вниманием отнеслись к ее первым сочинениям, которые она вам написала, а я вам предоставляю, как издатель.
Издателям я есть для того, что я знаю много умных и благородных людей, которые хотят издавать свои книги, но не могут без поддержки, собраться или со скромности своей бояться представить свои сочинения.

Для начала два рассказы Ирины Серебро, которые вы можите прочитать безплатно. Для Ирины самое главное, как вы отнесетесь к ее рассказам "Мальчик" и "Крестик".

Мы в двоем ждем на ваши коментарии.
Издатель Наталья и автор Ирина.

Good afternoon!
I am a chemical engineer and I walk the earth firmly. In my life, however, I have encountered many cases, ordinary but dramatic cases in which an unknown for me method appeared difficult to describe the influence of a higher power. I do not know what kind of power, but she appeared in such extraordinary situations where fear, pain and a fracture of human destiny appeared.
I do not know what it can be, but I'm telling my readers stories, about such cases that my friend, writer Irina Silver, very probably described.
I ask you to pay attention to her first essays, which she wrote to you, and I give you as a publisher.
Publishers I have for the fact that I know a lot of smart and noble people who want to publish their books, but they can not without support, gather or with modesty to be afraid to present their writings.
First two stories of Irina Serebro, which you can read for free. For Irina, the most important thing is how you will read "The Boy" and "The Cross" We are waiting in duplicate for your comments.

Publisher Natalia and author Irina.
Books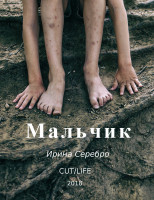 МАЛЬЧИК
by

Cutlife
Это настоящая история про мальчика, которого выгнала мать на улицу от 3-х летнего возроста, он рос в будке собачей То, что будет дальше прочитайте в этом рассказе. This is a true story about a boy who was kicked out of the mother by a 3-year-old boy, he grew up in a canine box. What will be read further in this story.
Cutlife's tag cloud