Cyrus Durey
Biography
Cyrus Durey (May 16, 1864 – January 4, 1933) wrote a history of Fulton County, New York around 1920 regarding the colonial and revolutionary war periods from which this book is based upon.

Durey was elected to the Sixtieth and Sixty-first U.S. Congresses (March 4, 1907 - March 3, 1911).

He was appointed on March 20, 1911, collector of internal revenue, fourteenth district of New York, and served until September 30, 1914. He was again appointed collector of internal revenue on September 30, 1921, and served until his death at Albany, New York, January 4, 1933.

He was interred in North Bush Cemetery, near Johnstown, New York.

The author had a large lumber mill on Canada Lake and split his time between Albany and his house on Pine Lake.
Books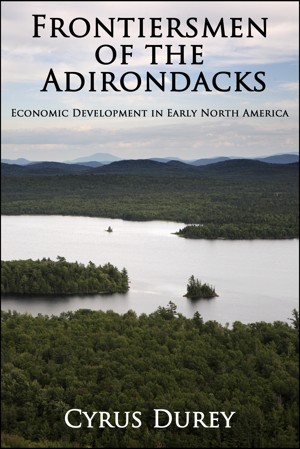 Frontiersmen of the Adirondacks: Economic Development in Early North America
by

Cyrus Durey
Every community both of civilized and barbarous men has its traditional heroes. The memory of some person or other who in his time stood out sharply from his fellows is preserved by them in tradition or by the written word often with fantastic embellishments of his person or his acts. We Americans know too little of the people of past generations who lived their lives in these localities.
Cyrus Durey's tag cloud