D Forrest Taylor
Biography
D. Forrest Taylor holds down a night job as an itinerant emergency physician. He is licensed to manufacture machine guns and silencers, but claims that this doesn't really contribute much to the patient volume in the ER. He's not really sure how he got here, because he wanted to be a Renaissance man when he grew up. He was very disappointed when he discovered he was several centuries too late, but not being one to despair, still cast his net wide. In addition to medicine and firearms, he has studied physics, tae kwon do, grammar (it didn't stick), chemistry, brewing, mathematics, judo, rocketry, literature, multivariate statistics, theatre, fourier transform infrared spectroscopy, natural and supernatural horsemanship, sparse matrix design, gymnastics, electrical and mechanical engineering, fencing, computer programming (specializing in APL, which was as obscure a language as he could find at the time), aikido, gambling, and full contact shodo (using 'live ink'). These, among other more eclectic but less mentionable pursuits. He has travelled widely (mostly up and down I-25) and speaks American, Spanish, Texan, Mexican, French, British, Japanese (a little), English, Gaelic (even less), and Kiwi. Most of these he speaks badly, but he can count to at least 'ten' in all of them. Except Gaelic. He once picked up a recruiting brochure for the CIA's field operations division (he found it to be a fascinating piece of persuasive writing through reverse psychology, nevertheless he did not apply for a position). He suffers from the tragic paradox of a profound desire for fame and fortune, vs. a deeply ingrained instinct to keep his head down, and maintain an out of sight, out of mind profile. Not easy, striving to be a highly visible, invisible maniac. He lives with his beautiful and talented wife, children, dogs, cats, and horses near a suitably anonymous small town in the western United States. The horses stay outside, for the most part.
Books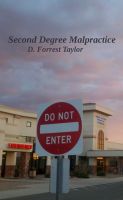 Second Degree Malpractice
by

D Forrest Taylor
The ER is always busiest when the patient you least want to see comes in code 3.
D Forrest Taylor's tag cloud
Smashwords book reviews by D Forrest Taylor
The Man Who Sued the Governor, and other tales of Northern New Mexico on Oct. 11, 2012

OK, so I'm cheating. I helped Jim get this ebook out into the world, but I wouldn't have spent the time on it if I didn't think the material was fantastic. If you've spent any time in New Mexico, or if you just want to get a feel for the place, this is a great read. Its like Michael McGarrity or Tony Hillerman, but with (sometimes) deeper roots in real events.