D.G. Raasakka
Biography
I grew up in North Dakota. The Upper Midwest, and it's sometimes isolating nature, provides the backdrop for much of my writing. The work featured on this site attempts to do a number of things. First, it makes some humble attempt to describe what being an imperfect human being feels like without being overly apologetic. Second, it attempts to prove that written stories are still powerful in our current age of media saturation. Third, it strives to be entertaining on some level because life is hard if you're angry all the time.

I earned my bachelor's degree in English from a university in Minnesota as well as my master's in business from a university in North Dakota. Neither of those facts matter, but maybe someone is curious.
Books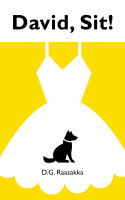 David, Sit!
by

D.G. Raasakka
Sunder's Department Store stands as a three-story, white-bricked monument to fashion, commercialism, and self identity for Norah Schultz in downtown Highborough, MN. Norah becomes intertwined in the antics of one of her employees—a hyper-introverted weakling named David. Both characters feel the need to claim the store as their own through a series of enlightening, deviant, and illegal actions.
D.G. Raasakka's tag cloud