Daniel Madison III
Biography
Born at some point in time and place. This is not an exaggeration the Author did come into this very world. Grew older everyday as he or she was eating food, sleeping and learning. Had a mother and father. Might of had siblings but this fact has not be verified. As stated before learned and was educated and it is rumored went to a school of knowledge. Might of had classmates and an actual teacher. Could be at one point in time and did obtain a degree of some value in the learning of a skill, art and or vocation applicable to gaining meaningful or meaningless work. Might of tested high or not in some kind of intelligence tests. It is rumored they learned on their own how to operate a musical instrument or instruments. There is speculation of a relationship or relationships involving the opposite gender or the same gender more than once. Author may or may not of traveled to far off lands or places closer for long periods of time or shorter periods or both. Author may or may not have physical and or mental health problems that could be or not attributed to how he or she writes. It is speculated that the Author does not like to speak of themselves in any form about their personal life and or views.
Where to find Daniel Madison III online
Books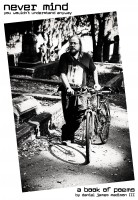 Never Mind You Wouldn't Understand Anyway
by

Daniel Madison III
Dark matter. Toxic, not for lovers of real poetry. Belief is in believing.
Daniel Madison III's tag cloud