D.L. Davison
Biography
D.L. Davison's passion for writing was born through the words of each great classic of literature she read aloud with her parents each evening as a child. Finding her voice as a novelist was a journey that meandered through professions as a musician, an HR professional, a trainer, speaker, coach, and columnist. Each brought her one step closer to embracing her desire to create something real, something more, something worth reading.

Ms. Davison holds an undergraduate degree in Psychology, a Master's degree in Organizational Leadership, is a graduate of Duke University's Business Coaching Institute, attained the SPHR designation, and ran two successful consulting firms for nearly twenty years.

Her first book, The Itty Bitty Vision Book: The little book of big dreams, was given to the graduates of Leadership Charlotte, a program focused on building community leaders. Her second book, The Quickstart Guide to Self-employment helped numerous entrepreneurs create firm foundations on which they built successful businesses.

D.L. Davison is dedicated to not only creating quality works of fiction, but to continually improving her craft and developing characters that illicit visceral reactions - to develop characters that you love, characters that you loathe, and characters that make you think.
Books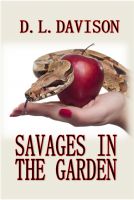 Savages in the Garden
by

D.L. Davison
The Spencer family is successful by any measure. William, the patriarch, is a well-known lawyer and the city's Mayor. His wife, Corinne, is a Southern socialite and Adam, their only son, is a successful and respected surgeon. They live enviable lives and apologize for nothing. They appear to be the perfect family but appearances can be deceptive.
D.L. Davison's tag cloud