Darlene M Maxwell
Biography
Darlene McLeod Maxwell, Professor of Education, Coker College, has over forty years of educational expertise spanning the teaching of preschool through sixth grade in the United States and Germany. These classroom teaching experiences have been broad in scope and design and include private and public schools, to university laboratory schools, Department of Defense Schools in Germany, and Montessori schools. In higher education, Dr. Maxwell has taught at the graduate and undergraduate levels in Arizona, Maryland, Georgia and South Carolina in private and public colleges and universities. She continues to publish research in the area of children's play, including a chapter in the recent book, Connecting Children to Nature. Dr. Maxwell is a board member of the International Association for the Child's Right to Play/USA, a member of the National Association for the Education of Young Children, Montessori Educational Programs International, the South Carolina Association for Early Childhood Teacher Educators, and the US Play Coalition. She is responsible for hosting an annual community-wide "Play Day" for approximately 600 preschoolers, their parents and teachers, community agencies, and Coker College faculty, staff and students. She and her husband, a retired career military officer, continue to enjoy traveling with their daughter, son-in-law, and grandchildren.
Books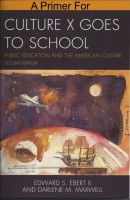 A Primer for Culture X Goes to School: Public Education and the American Culture
by

Edward Ebert II

&

Darlene M Maxwell
This inexpensive PRIMER introduces the cultural identity crisis in the United States and the myth of educational reform as explored, explained, and opened for dialogue in "Culture X Goes to School: Public Education and the American Culture." The Primer allows the reader to "test the waters" by providing Preface; Prologue; each chapter's Introduction, key points, Final Words; and the Epilogue.
Darlene M Maxwell's tag cloud