Allan E. Lucas, Jr
Biography
Allan E. Lucas, Jr. is one of five-generations of native Washingtonians. He attended D.C. Public Schools, and holds a Master's degree in Criminal Justice and Security from the University of Phoenix. Allan is a former Vietnam-Era Marine Sergeant, and a Black Belt in Wado-ryu karate. He is a retired D.C. law enforcement officer who resides in Washington, D.C.
Books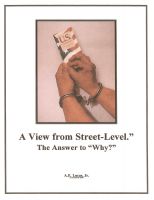 A View From Street-Level-The Answer to Why?
by

Allan E. Lucas, Jr
An investigative and political analysis of race-relations of African-Americans in the United States, that began with a mother's anguished question. It explores the myth of slavery, and the reasons for the continuing frustration and anger in Blacks in America. The United States created a land of "colors," Black and White. This book answers the question of "Why?" for both sides.
Allan E. Lucas, Jr's tag cloud