D. Robert Simpson
Biography
D. Robert "Dave" Simpson is endemic to Portland, Oregon, and still loves the pace even though it's become cartoonishly full of itself.
A volunteer Dog Walker, Kennel Buddy and aspiring Pet Pal at Oregon Humane Society, he lives alone but is currently looking forward to his next puppy chow.
Books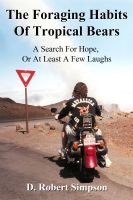 The Foraging Habits Of Tropical Bears
by

D. Robert Simpson
When the going becomes unbearable, the able bear leaves town. Not exactly reaching for the stars, but it wasn't reaching for the gun, either, and that was good enough for the time being.
D. Robert Simpson's tag cloud