Dale Giancaspro
Biography
A student of criminology and forensics, Dale Giancaspro (1961-) has served twenty plus years in the operating room as an interventional radiographer. Besides being a freelance writer, Dale is an ardent sailor with a passion for wildlife, reading, and watching great movies. Married to his soul mate, he has two daughters. His first novel, Trade Winds, is a nautical adventure set in the 16th century. Dale resides in Texas, where the winters are mostly agreeable and the sailing endless.
Books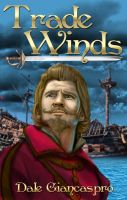 Trade Winds
by

Dale Giancaspro
Follow Englishman Sir Thomas Sutton's epic adventures on the high seas as he battles the Spanish Armada then sails to Africa for the spice trade. A recent insurrection on the island of Zanzibar forces Sutton to venture into Africa's dark continent in search of a fabled ruby mine in the shadow of Mount Kilimanjaro. It is the ultimate gamble, one that could easily cost him his life.
Well Red
by

Dale Giancaspro
New York homocide detective Sean O'Rourke hunts for a serial killer, known as the Zapper, who kidnapps and murders literary agents for the big publishing houses. The Zapper's method of murder is unlike anything the world of law enforcement has ever seen. Following a trail of bodies, O'Rouke is on the verge of solving the case when he finds himself as the Zapper's next victim.
Dale Giancaspro's tag cloud