DaleJensen
Biography
Dale Jensen was born in Oakland, California, graduated from the University of California at Berkeley in 1971, and received a master's degree in experimental psychology from the University of Toronto in 1973, with which he said goodbye to academia forever. In 1974, he embarked on a career with Social Security that lasted until 1999, when he took early retirement. He lives in Berkeley and is married to the poet Judy Wells.
Dale's poetry, which is heavily influenced by the Surrealists and such cut-up writers as William Burroughs and Brion Gysin, has appeared in such magazines, journals, and anthologies as Talisman, Lost and Found Times, Ur-Vox, Poetry East, Inkblot, Convolvulus, Dirigible, and many others. He published and edited the experimental poetry magazine Malthus from 1986 through 1989 and continues to occasionally publish books through Malthus Press. He also has published seven books and three chapbooks of poetry: Thebes (1991), Bar Room Ballads (1992), The Troubles (1993), Twisted History (1999), Purgatorial (2004), Cyclone Fence (2007), Oedipus' First Lover (2009), Auto Bio (2010), Yew Nork (2014), and Amateur Mythology (2017).
Dale has two blogs, Dale Jensen's Poetry Page and Things I've Done for Blood. Why I Moved to San Francisco is his first published long work of fiction.
Books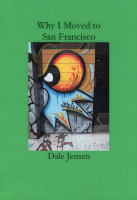 Why I Moved to San Francisco
by

DaleJensen
Harry Lindquist, a youngish bureaucrat in a slightly creepy Federal agency, goes in search of a colleague who has broken all rules of physics and time in his disappearance, and in his search finds that he is breaking the same rules. He soon discovers that his journey has less to do with his colleague and more to do with time, space, and his own sanity.
DaleJensen's tag cloud