Dan C. Gunderman
Biography
Dan C. Gunderman is an author of historical fiction and nonfiction who holds an MFA degree in Creative Writing from Fairfield University.
His forthcoming books include two biographies for an educational publisher in the Spring of 2018, and a six-part YA fiction series. He specializes in writing nineteenth-century historical fiction and screenplays.
Dan's particular research interests include Tudor and Victorian England, along with Gilded Age U.S. politics.
He is a former staff writer for the New York Daily News, where he also served as a film and television critic. He is currently the associate editor of a B2B media site, and a contributing film critic to different outlets.
Dan lives in West Milford, New Jersey with his three dogs.
Books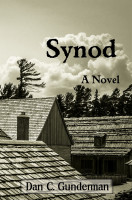 Synod: A Novel
by

Dan C. Gunderman
Thanks to the advice of the village's Founders, Synod will become a stop on what would soon be called the "Underground Railroad." Goldfinch oversees this transition, bringing in a broken runaway family. As southern bounty hunters follow their path and seek to reclaim stolen property, Goldfinch meets a shadowy abolitionist with close ties to the federal government.
Dan C. Gunderman's tag cloud