Daniel Rodsby
Biography
As a young professional growing up in a middle class, "vanilla" atmosphere I always wondered what the underground LGBTQA world was like. When I moved to Philadelphia, I was immediately given light to the wild side of things - and now I wish to share these experiences with you.

Not all of my work is from personal experience; some may be based off of those experiences shared with me by peers. However, all of my fiction is based on tales and events in my life with which I have personal connection on some level. These episodes will prove to be graphic in context, sexual in desire, and extreme in nature - it is the reader's discretion whether to join me in these adventures or click "next."
Books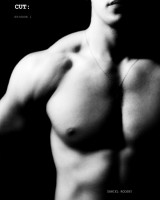 Cut: Episode 1
by

Daniel Rodsby
Every human has carnal desire hardwired into their programming. We are constantly seeking the opportunity to release the electricity inside us - for some like Dan, this comes from thrills far outweighing the concern for the self. In the alleys of Philadelphia, Dan finds his fantasies come to life in ways he never imagined - perhaps too wild for his own being.
Daniel Rodsby's tag cloud