Darrell Ahrens
Biography
Darrell J. Ahrens is a former Marine, Air Force fighter pilot, high school teacher and pastor. He holds degrees from Chapman University, Boston University and Fuller Theological Seminary.
He and his wife, Louise, live in Litchfield Park, Arizona. They are blessed with a son John and his wife Sandie, a daughter Linda, her husband Chad, and five of the most beautiful grandchildren ever to grace God's earth.
Books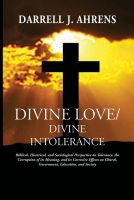 Divine Love/Divine Intolerance
by

Darrell Ahrens
(4.00)
How much does God expect us to tolerate? Liberals demand we tolerate lifestyles that violate our deeply held religious and moral values and contradict Holy Scripture. But should we? Our new brand of "tolerance" is drawing America away from its Judeo-Christian foundation and the values and vision for America our Founding Fathers insisted were crucial to the nation's welfare.
Darrell Ahrens' tag cloud