Darryl Holiday, Jr
Biography
The relationships you form throughout life shape who you are.

As we grow older the way we love evolves with us.

The Love We Never Made is a depiction of the cycle of love.

Time and time again we lose ourselves within loves' realm.

Not knowing if that is where we truly are.

Not knowing if that even matters.

Anymore.

Darryl Holiday Jr., is an Atlanta native that has written and performed poetry for over ten years.

A natural-born storyteller, Darryl gives his reader's an escape from their first-person perspective- where they can analyze their own comparative situations from another view. Embark on journeys of time that you once thought would not be possible. Embrace his stories, wear his words, hear his thoughts.
Books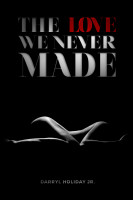 The Love We Never Made
by

Darryl Holiday, Jr
The Love We Never Made is a compilation of poetry that embarks the reader on a journey through the possibilities of love. From the enticing first encounter to the peak of sensuality, The Love We Never Made will transport you to the very moments that love calls you back to.
Darryl Holiday, Jr's tag cloud