Daud Abdullah
Biography
Daud Vicary Abdullah is the President and Chief Executive Officer of INCEIF, The Global University of Islamic Finance. He has been in the finance and consulting industry for over 43 years, with significant experience in Asia, Europe, Latin America and the Middle East. Since 2002, he has focused exclusively on Islamic finance where he has contributed to a number of books on the subject and has co-authored a book on Islamic finance entitled "Islamic Finance: Why it makes sense." He is also a frequent speaker and commentator on matters relating to Islamic finance.
Prior to INCEIF, Daud was the Global Islamic Finance Leader with Deloitte. He was also previously Acting CEO of Asian Finance Bank, an Islamic bank based in Malaysia, and was the first Managing Director of Hong Leong Islamic Bank.
He is a Chartered Professional in Islamic Finance (CPIF), CPA (Australia), a Distinguished Fellow of the Islamic Banking and Finance Institute of Malaysia (IBFIM) and a former Board member (2003 – 2007) of the Accounting and Auditing Organization for Islamic Financial Institutions (AAOIFI).
Currently, Daud is a member of the Global Group in Islamic Finance & Investment (Global IFIG), under the Foreign & Commonwealth Office, UK; a member of the Steering Committee for The Royal Awards for Islamic Finance (RAIF), a member of the Islamic Finance Committee at the Malaysia Institute of Accountants (MIA), a member of the Board of Trustees of RFI Foundation and a Senior Advisor for University of East London's Islamic Finance and Banking Advisory Board.
Books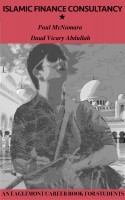 Islamic Finance Consultancy: An Eaglemont Career Book for Students
by

Paul McNamara

&

Daud Abdullah
This Eaglemont Career Book on Islamic finance consultancy aims to paint an accurate and in-depth picture of the good, the bad and the downright challenging aspects of the work to give the reader the best possible picture of what lies ahead if they decide to pursue a career path that takes them towards this destination.
Daud Abdullah's tag cloud