Dave Lager
Biography
Dave Lager is the pen name of Dave Ramacitti, who at 75 is supposedly retired, except he very much looks forward to working on his Ro novels every chance he gets and also still teaches part-time (mostly speech) at a local community college.

Ro's Handle is the first Ro Delahanty book; his second, The Berlin Riddle, is nearly done and there are nascent ideas for several more Ro stories.

Dave's career includes working as a newspaper reporter and magazine editor and publisher, and as a marketing / public relations consultant helping small business be more effective marketers. Under his own name he has previously published non-fiction books and manuals for the small business market, including: Do-It-Yourself Publicity; Do-It-Yourself Advertising; Do-It-Yourself Marketing; So You Want to Own Your Own Business; The Three Marketing Absolutes: Know Your Customer, Know Your Competition, Be Unique; The Three Marketing Absolutes: A Step-By-Step Guide to Learning About Your Customers, Your Competition and Achieving Uniqueness In The Marketplace; and The All-Important Stuff You Gotta Do First to Effectively Market Your Small Business.

He has been married to his best friend for 25years and has three grown stepchildren and seven step-grandchildren. He lives next to the Mississippi River in Rock Island, Illinois.
Books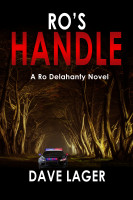 Ro's Handle
by

Dave Lager
Ro learns not only what it means to be a cop, but what it means to be a true warrior against those that want to do harm to those she is sworn to protect.
Dave Lager's tag cloud