David Gowrie
Biography
I travel a lot. I have done so since I left Canada for Scotland at eighteen and found myself in New Zealand by the time I was twenty. I retired at twenty-eight and ran an alternative energy business which meant that I had to get a real job again eight years later. I used to collect countries but found that rather shallow and have since been returning to old favourites to savour the changes. I have lived in several countries and in October of 2014 decided to do a 'superintensivo' course in French while in Quito, Ecuador. Now I have seventeen more Spanish speaking friends. I trained originally as a Ship's Officer and that has taken me around the world more times than I can recall and from the Arctic to two-and-a-half years serving on an Antarctica. Research ship. Great fun - only almost died twice a year. I am a Marine Electronics and Electrical Engineer with Post Graduate degrees in IT (Systems Analysis) and the Philosophy of Religions. The latter has never earned me any money but has made me feel better about it. I have two ex-wives living in Scotland along with three sons though as one is an Archeologist I am never quite sure where he is. I started "To Regain His Soul" in a tent in Louisburgh, Nova Scotia in Oct 2013 and finished the first draft in a chalet on the beach at Mancora, Peru in January 2014. After 42 revisions it is now fifty thousand words longer and I hope much improved.
Smashwords Interview
Books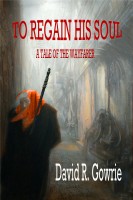 To Regain His Soul, A Tale of the Wayfarer
by

David Gowrie
Price:
$5.99 USD.
Words: 159,270.
Language: English.
Published: November 22, 2014
. Categories:
Fiction
»
Fantasy
»
Epic
Humans knew that things sometimes happened for no real reason and they called such occurrences 'coincidences'. Humans were very familiar with coincidences. God's knew that there were no such things. Ehrlian knew that he was no god but just now he was rather wishing that he was one. He had too much power to ignore and too little to make a stand.
David Gowrie's tag cloud