David Adams Cleveland
Biography
David Adams Cleveland is a novelist and art historian. His latest novel, Time's Betrayal, is just out from Fomite Press. A Starred Booklist Review noted that Time's Betrayal, "raises the bar for multi-generational epics . . . the writing is gripping throughout . . . this unforgettable tour de force is well worth the time." Pulitzer prize-winning author Robert Olen Butler called Time's Betrayal, "a vast, rich,endlessly absorbing novel engaging with the great and enduring theme of literary art, the quest for identity." Bruce Olds, two-time Pulitzer nominated author, described Time's Betrayal as a "monumental work . . . in a league of its own and class by itself . . . a large-hearted American epic that deserves the widest possible, most discriminating of readerships." In summer, 2014, his second novel, Love's Attraction, became the top-selling hardback fiction for Barnes & Noble in New England. Fictionalcities.uk included Love's Attraction on its list of top novels for 2013. His first novel, With a Gemlike Flame, drew wide praise for its evocation of Venice and the hunt for a lost masterpiece by Raphael. His most recent art history book, A History of American Tonalism, won the Silver Medal in Art History in the Book of the Year Awards, 2010; and Outstanding Academic Title 2011 from the American Library Association; it was the best selling American art history book in 2011 and 2012. David was a regular reviewer for Artnews, and has written for The Magazine Antiques, the American Art Review, and Dance Magazine. For almost a decade, he was the Arts Editor at Voice of America. He and his wife live in New York where he works as an art adviser with his son, Carter Cleveland, founder of Artsy.net, the new internet site making all the world's art accessible to anyone with an internet connection.
Books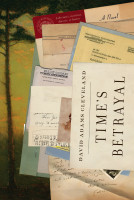 Time's Betrayal
by

David Adams Cleveland
Tapping into spy thriller territory, and the KGB penetration of American secrets by Kim Philby and the Cambridge Five, the narrative unfolds through a series of engrossing, if agonizing, love stories that cross the boundaries of generations in ways both profoundly unsettling and deeply moving.
David Adams Cleveland's tag cloud