David Coombe
Biography
I accidentally wrote a book. But now I am purposely writing a second. In each case I was hooked by something odd, something that didn't seem quite right. That leads to uncertain places and unformed paths, but the journey is exhilarating and the checkpoints are subjected to the analytical thoroughness my previous career demanded. Narrative non-fiction is my thing; colonial murder mystery grabs me. I live in Canberra, Australia, coincidentally the home of the National Library of Australia's Trove Digitised Newspapers.
Where to find David Coombe online
Books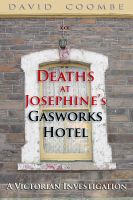 Deaths at Josephine's Gasworks Hotel
(5.00)
Immerse yourself in Victorian era intrigue and the world of publican Josephine. A story never before told. A suspicious death, a coroner's inquest, a Supreme Court verdict of fraud and a family cut out of a last minute will. Did Josephine kill this man and three others? Climb aboard the investigative journey. Includes readers' guide for book group. Follow on Twitter for added colour.
David Coombe's tag cloud