David L. Wood
Biography
Born in Utah and raised in California since age four, David L. Wood attended Berkeley public schools and the University of California at Berkeley before earning his degree
of Doctor of Medicine at the University of Southern California. General surgery and plastic surgery residencies preceded his successful thirty-two years of private plastic
surgery practice in Long Beach, California. Dr. Wood's interest in and study of economics since his UC Berkeley years, gave him the background to write his first book on the medical and economic effects of Medicare, Who Will Take Care Of Me When I Am Sick?. Experiences in Eastern and Western Europe since 1950 have provided added
knowledge to prepare this second book, which compares the competing societal systems: Capitalism and Socialism.
Books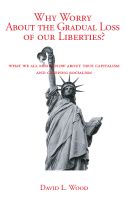 Why Worry About the Gradual Loss of Our Liberties?
by

David L. Wood
(5.00)
In the light of widespread incomplete understanding and appreciation of the powerful and successful system of Capitalism, Dr. Wood has undertaken the project of clarification of the true concepts of the system that took this United States from its small, impoverished state to become the most powerful nation among the countries of the world.
David L. Wood's tag cloud