David M Davies
Biography
David M Davies 1910-2008
'I have fought the good fight, I have finished the race, I have kept the faith.'
(2 Timothy 4:7)
God took hold of young Welsh-speaking David from Gowerton, near Swansea. He left Congo in 1937 where God gave him a fluency in local languages which he used in evangelism, preaching, and writing books for Congolese Christians. David married his wife Annie in 1949 and began training pastors in the growing church in Congo.
The Congo revival in 1953-54 touched his life deeply and he later told the story of his experiences to many audiences, leaving a trail of blessing. He said 'We could fill pages with testimonies'. He wrote of that and other events in Congo around the time of independence (1960) and the Simba uprisings (1964), portraying the sufferings of local believers and fellow missionary Winnie Davies.
In 1964, David and Annie returned to South Wales with their young son. Whilst representing WEC in South Wales he taught (without pay!) for 26 years in the Swansea Bible College. He and his dear wife loved praying. Every day ended with prayer ... with vibrant faith they prayed for God's work.
Books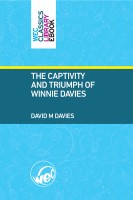 The Captivity And Triumph of Winnie Davies
by

David M Davies
This book reveals how God used Winnie Davies to impact the lives of many people. Jesus Christ dominated her life. He brought meaning into living by a glorious consciousness of forgiveness and love as shown to her in His Cross. She knew God wanted her for Himself and for His purpose... The standards she lived by were down-to-earth interpretations of God's mandate for life as read in the Scriptures.
David M Davies' tag cloud