Dawn McIntyre
Biography
Dawn McIntyre was born and raised in northeastern New Jersey and currently resides in Honesdale, PA, where she is an active member of The Writers Circle of Wayne County. She has been writing fiction for the better part of the past thirty years, while running a small business and working in corporate America.
Books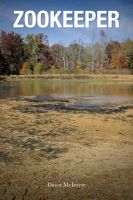 Zookeeper
by

Dawn McIntyre
A new lake development in the country sounds like a good investment idea to Sarah Greene. At first, her good intentions involve minding her own affairs and making the old house she's purchased presentable. As hostilities between the locals and construction crews escalate from verbal sparring to vandalism and toward violence, Sarah becomes drawn into their conflict and finds herself in harm's way.
Dawn McIntyre's tag cloud
Smashwords book reviews by Dawn McIntyre
YO MIZ! (1 teacher + 25 schools = 1 wacky year) on April 19, 2015



Miz Rose has got a winner here. Yo Miz! is funny, touching, and offers a fascinating insight to those of us who have never worked in a school or really understood how much hard work, caring and sacrifice went on behind the scenes. Although she and the other Excessed Teachers truly were ill-used by the Department of Education and this memoir obviously intends to point out their shortcomings and questionable policies, it's done fairly and without malice. Sometimes madcap, sometimes upsetting and thoroughly enjoyable, Yo Miz! moves along quickly and is hard to put aside when it's time to turn off the lights at night. Although Elizabeth Rose admits that teaching has always been her B job, and modestly refuses to make herself the heroine of the story (it's about the kids), she's obviously been a damn fine teacher. Give this one a try.

Pebbleton-On-Edge on May 10, 2015



Pebbleton-on-Edge is a well-written, cozy mystery involving an ensemble cast of likeable and believable characters. D.A. Gregory has done a great job of bringing the setting to life. I'll be reading the sequel.