Geoffrey Levson
Biography
I grew up in Brampton, Ontario. I started writing at a very young age, I enjoyed the ability to tell a good story. Around the time I was ten, I began to get very interested in ancient worlds and civilizations. I especially took an interest in ancient Egypt and the Roman Empire. It flabbergasted me that anybody could build such immense and heavy structures, I was left wondering how in the world could anyone erect such an incredible complex. Several years ago, I began to watch a television show on the History Channel called Ancient Aliens. It started to answer some of those fundamental questions I had asked since I was a child. As I began to get some possible answers, a riveting story took shape in my mind, Dawn of Man is the culmination of that dream. It was written in less than a year with a lot of long nights by the coffee pot. My ultimate dream is for this story to inspire you, the reader to ask the same questions I did as a child. Are we alone? Have we been alone all this time? Where are we going? Who are we and why are we here? What really happened 20,000 years ago, while historical science claims nothing took place, but some evidence says otherwise? While I'm still searching for some of the answers to these questions, I have more of an idea now than I did before.
Where to find Geoffrey Levson online
Books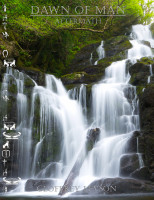 Dawn of Man - Aftermath
by

Geoffrey Levson
Atlanka City, home to the Sirian Empire has crashed spectacularly on Terra. On a remote island Persephone and her team are now faced in a dire situation, with people in harms way and primates convinced that Atlanka is somehow associated with the Gods, Persephone jumps in way over her head. Saving a woman's life, she binds the Sirians to a series of events nobody, not even Persephone can predict.
Dawn Of Man - The Exodus
by

Geoffrey Levson
Mars, 13,000 BCE. Atlanka City faces a devastating asteroid collision, only Persephone Vorn together with her sister Josephine can save the city from certain disaster. From Persephone having to dodge plasma bullets and outwit a dynamic AI, to disaster befalling the S.I.V. Jovus. There is so much we don't understand of our history, so much is lost in time. Are we really so sure of our origins?
Geoffrey Levson's tag cloud