Nick Thomson
Biography
Nick Thomson is a freelance filmmaker, as well as a writer, movie fanatic, and zombie obsessive. He is the author of the "Celebrityville" series of books, which so far includes "Celebrityville", "Sleb: Tigress of Celebrityville", and "How Mr Snuffles III an Others Met Their Maker". He is also a staff writer for "Sleaze Fiend Magazine", a publication that delves deep into the gritty world of exploitation cinema. In addition to his writing endeavours, Nick Thomson has worked in various capacities on a series of short films and documentaries, which have been screened around the globe and gained numerous awards and nominations from the likes of the Campfire Film Festival and the St. Tropez International Film Festival. He is currently developing further writing projects including "Celebrities vs Zombies", "Divorcee Row", "Taking Offence", and "A Sideline In Vengeance".
Where to find Nick Thomson online
Videos
Sleb: Tigress of Celebrityville (Video Trailer)
Video trailer for Book 2 in the "Celebrityville" series - "Sleb: Tigress of Celebrityville".
Books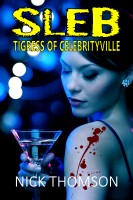 Sleb: Tigress of Celebrityville
by

Nick Thomson
A satirical thriller in which embattled starlet Roxie Black must fight against the combined pressures of an imploding career and a deadly conspiracy that seeks to make her the third celebrity death this month! Fame/Fortune/Obsession/Corruption/Sex/Drugs/Death/Celebrity/Celeb/SLEB - a darkly comic mauling of crazed excess.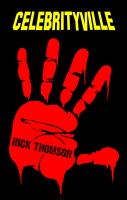 Celebrityville
by

Nick Thomson
A transgressive crime thriller that takes a satirical bite into the warped world of celebrity by way of murder, mayhem, revenge, and a painfully public divorce.
Nick Thomson's tag cloud