Dealia Pieratt
Biography
Dealia is a lover of stories and has always had a vivid imagination. She's been creating stories and telling them to herself since she could speak. She decided to put her stories on paper, and since March of 2009, she has created five intriguing stories. Her first book in The Five Percent series is Seekers of the Book, and she is hoping to have her next ones in the series published soon.
Dealia resides in the mountains of Idaho with her husband, Eddie. The outdoors is their playground where they are constantly hiking, camping, and 4-wheeling. Dealia has two daughters that have given her four grandchildren that are the loves of her life. She will always have as much adventure in her mind, as is in her life.
Books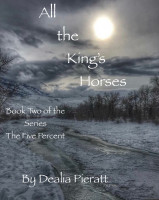 All the King's Horses
by

Dealia Pieratt
Read, 'All the King's Horses', and you'll be carried away by intrigue and mystery. You'll find young heroes who are willing to go to prison to warn the world of a great danger looming in their near future.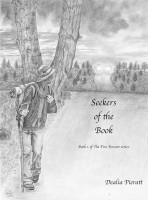 Seekers of the Book, Book 1 of The Five Percent Series
by

Dealia Pieratt
Seekers of the Book is the first in the series called The Five Percent. This is a Christian suspense novel—the story of good versus evil is surrounded by the story of God's personal love for a dying world. The book begins with a fugitive beaten, bruised, and running from an unknown foe. Not only can she not remember who her enemies are, she also does not remember her own name. Her journey brings h
Dealia Pieratt's tag cloud